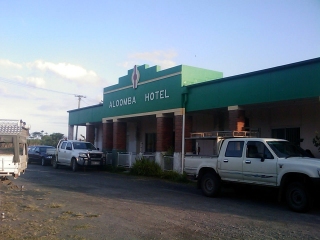 Reviewed on 4/9/09 by Mike Lee and Hamish Withington
I have seen the Aloomba pub on many occasions and have even visited it once before. However, this was the first time that Hamish has ever seen it and remarked that it actually looks like an old BP Servo. The building is very hmmmm… Retro – Deco.. and really looks nothing like a pub, save for the 'Aloomba Hotel' sign on the façade. But there are no illuminated signs advertising brands of beer, which are the typical means of identifying this type of establishment.
A healthy spattering of locals adorned the outside drinking area under the veranda and the thirsty travellers were made to feel welcome immediately on entering the place, with plenty of 'g'day mates' from both the punters and the staff.
Walking inside is like walking into the mid 50's (so I am told – I was not alive then) with a hint of aforementioned art deco styling. This is a good chance that not much has changed inside with the exception of the stock and the photo wall.
The curved fridge behind the bar is definitely a feature as are the traditional swing handle taps. It was also great to see the 50's style laminates on the bar, held down with stainless steel and aluminium strips – just like grannies kitchen. A classic old Wurlitzer Juke box resides in the lounge – facade only however – it was stacked with CD's rather than old singles.
The publican was friendly and attentive, and could certainly pull and mean beer. The beer was crisp and cold and tasted fine, despite not being my favourite brand – being the driver on this review, I had to stay with the lower alcohol varieties. The current hotel was built in the 50's and is the third such building to occupy the site – the previous two having burned down.
Strangely, the veranda area is fenced off and you have to access the pub by use of raised kiddy locks on the access gates. Was told that this was due to the publicans son having the run of the place and was a means of stopping him escaping from the premises. This was twenty years ago, sort of demonstrating how not much changes at the Aloomba pub. I'll be back!