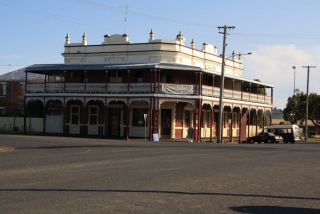 O'Mahony's Hotel is in Warwick, on Queenslands Southern Downs. I first saw this pub a couple of years back but never got to have a beer in there at that time. So I've promised my self that this unfulfilled desire would be rectified on the next visit. I heard to my horror that a classic old pub had burned down in Warwick about 12 months ago, and was greatly relieved that it was not O'Mahony's, but none the less saddened that another classic pub is gone.  So last weekend, I find myself back in Warwick and demanded a visit to the pub.
This time round, I visited with a regular guest of the place and he was greeted like old family. This pub is wonderfully preserved and it is huge… a veritable rabbit warren of dark corridors and passageways, rooms and no doubt, secret passages! Every corner of upstairs seemed to contain a residents lounge. Unfortunately I was restricted to the phone camera, so the gallery images are a bit on the dark side, and I could not photograph all I would have liked.
If visiting Warwick, not only think about stopping in for an excellent beer, but you need think about camping overnight as well. Great pub!