Note 25/9/2013: The Centen has been receiving mixed reviews of late. We'll be visiting again soon to do an updated review.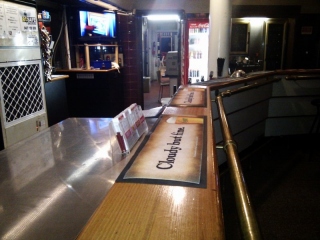 Hamish Reports:
For those with an inclination to appreciate 1950's art-deco styled buildings, cold beer and good steaks, then the Centenary Hotel (more locally known in Townsville as "The Cen-ten"), will be of great appeal.
Having never visited this pub myself until only recently – which i might add was on account of an invite to attend a Christmas function, I had heard murmurings that the Centen was a "good pub" for a good meal and one that was family-friendly.
Considering that our Cairns reviewers were to be in Townsville again, and considering that I had previously thought that the Centen would be worth checking out properly – with its unique location and style, it was chosen as the subject of our latest review.
The Centen itself is located in French St, in the quiet homely suburb of Pimlico in Townsville. The first time visitor would be forgiven for thinking that they have literally been led "up the garden path" with the directions – driving along French st gives no indication that there would be a pub located in what is seemingly a sleepy 1960's developed urban area.
Out of almost nowhere emerges this pub, about half way along the street. The first indication confirms that it is indeed child-friendly, in that it has one of those huge inflated pillow type bouncy areas located in a fenced area adjacent to the adequate carparks. The building itself is a two story brick building, constructed (from available reports, subject to correction) in the 1950's. Plain brick veneer but with the art-deco revival curved corner bricks, and loads of terazo floorings inside. the humble foyer boasts two brown sitting chairs which are also in theme with the art-deco styling, as are the staors that lead up to what was once an italian restuarant, and prior to that, accommodation.
The pub is quartered up so that there is a public general bar immediately at the main entrance, which (again, reportedly0 was once the "lounge" bar, but now sees the general public drinking area. the former public bar is now a "sports bar", with another area well away from the main drinking and socialising areas set aside for pokies.
An indoor dining area is adjacent to the former "lounge" bar, and depsite showing its age, it pulls through well again with the art-deco features of dark timber bi-fold doors and "bubble glass" printed windows. The dining room opens up onto a very pleasant outdoor dining area with plenty of seating – some of which have been constructed with what appears to be former church pews, cleverly integrated into the "booth" seating dining areas.
The extended outdoor kitchen provides a reasonable expanse of menu items, of which the steak is undoubtedly the king. Meals are reasonably priced, and are more than ample in quantity. At our table, I observed hearty eaters almost struggle to get through a parmy that appeared to have almost half a kilo of cheeses, and of an adequate enough size to be a meal large enough to provide sustenance to the average himan for a full day. It was certainly remarkable value. The steaks – these rated extremely high on all reviewers lists – good tender, quality meat, nice sized portions presented nicely on unpretentious plates. Those of us who like pepper sauce noted that it was decent sauce with 'balls" in that it consisted perfectly with the right balanceof heat and peppercorns to gravy mix. Perfect!
The beer was cold, and despite struggling with supplies due to the limited freight being able to be received due to the devastating QLD floods, most general beers were at least available in nicely chilled stubbies, and the bar provided a peaceful but ambient place to gather around and talk, whilst enjoying a cold beer without having to compete for volume with any poker machines or big screen TVs. As a side note, the TV's that were observed were again unobtrusive, and of sufficient volume that you could hear them if there was sosmething of interest happening.
Smokers are also adequateky catered for by their pleasant outdoor smoking area adjacent to the main entrance, surrounded by some not so happy wall mounted Elk-horns – some of which are sadly departed this life.
Over all, this pub has its own identity and character, service is friendly, cold beer, excellent meals, and would certainly cater well to any type of patron – be it the Missus and kids for an affordable, tasty meal, or catching up with mates after work for a hard earned thirst quenching session. Id rate this pub a 8.5 out of ten, and even then, that may be too harsh, considering that this particular reviewer is considering making the Centen a new "local".
Mikes Comments: You gotta love it when Hamish does a review – there is very left for anyone to have to say once he gets on a roll.  I will take up his offer of being open to correction though – the pub was built in 1960. But being Townsville, I am sure the designers were of the opinion that art deco was still modern then 🙂
We couldn't believe our luck with the quality of the food on the night the pub was reviewed, so we went back for lunch the following day to make sure it was no fluke.
It was no fluke!
cheers!