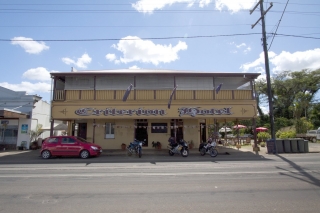 Between Mena Creek and Innisfail is the Mill-town of South Johnstone with the historic Criterion Hotel.  This is a older 2 story pub that still has the original central fridge configuration that was so common in older Queensland pubs.  Driving past it looks like the whole cane-cutter's business, but I suspect that a bit of a renovation has lost some of it's character.
If you do drop by, check out the wood saw collection over the central bar/fridge.  With a range of hand-saw's and motorised chain-saws the collection looks like the real-deal and I gotta say that I wouldn't have liked to use any of those implements for a living!
"Humbly adequate"  was the term coined by Nic – it's a simple bar but it seems to be lacking something.  The dominating feature in the pub is the large central cool-rool with doors and taps.  For those not familiar with QLD pubs, this means that the bar staff turn around and pour the beers away from you, and the bar is a huge un-cluttered slab to drink at.  The signs that adorn the pub are a good laugh – "Your first fight is your last drink" kinda tells a tale… especially being that the sign is proudly hung beneath a portrait of the Queen!  It's not confirmed if she was the cause of the sign being hung there in the first place…
Another laugh the the brass plaque near the front door proclaiming "ON THIS SITE IN 1897 NOTHING HAPPENED"… Not to be mean, but it seems that it is still true today!
An interesting quirk of this town is that the cane trains actually run down the main street.  So if you are driving past the pub, look out for train traffic!
Pics:
How to get there: