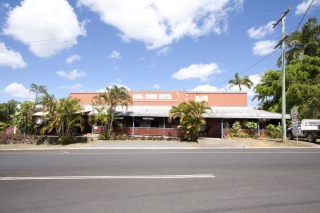 The Mena Creek Hotel is a top pub to start out mission.  As the first pub reviewed here it holds a special place, visited by the Trio of
Nic
,
Victor
and
Rob
– this is a classic country pub complete with bull nose verandahs' and natural slab wooden tables.  If you are driving past, don't let this little pub fool you – it might look a bit plain from the roadside, but it is actually a cheerful pub with plenty of character.
This pub is situated over the river from Paronella Park which might be a blessing or a curse for this little gem.  All I can suggest to people is that if you are driving out to take a look at Paronella Park then do yourself a favour and drive the 400 meters further once you have finished for a cold beer in a top spot.
We arrived at 12:15, and there was a few tables of people having lunch there.  While we didn't eat (We had a late breakfast at the Lake Eacham Roadhouse) the beer was great, and the ladies behind the bar were quite friendly and happy to have a chat about the place.  If you drop by, look out for Kurzy's chair.  While the rest of the place has wooden bar-stool's we noticed that one chair was a bit different.  This one was re-enforced with steel, had a car shock-absorber and armrest's to boot.  It turns out that Kurzy (we didn't get to meet him) is a larger bloke who was breaking a few chairs – so much that the management built a special bar-stool just for him.  The chair also features a dustpan in the back (apparently Kruzy walks a lot of dirt into the bar) so that the staff always have the right equipment to clean up after him.  To top it off, Kurzy also has a framed picture of Pauline Hanson in a compartment under the seat – obviously a one-nation fan.
The pub has accommodation, pool table, indoor/outdoor seating, a lounge and even a beer garden out the back.  I don't know why you would want to use it though – lazing on the verandah with a gentle breeze looking out the front was a great spot.
The bar was great, the beer cold and we could easily have stayed for another.  Instead we went across the road and walked the suspension bridge to Paronella Park and had a look at the falls and some of the amazing concrete work the makes up this attraction.
Pics:
How to get there: