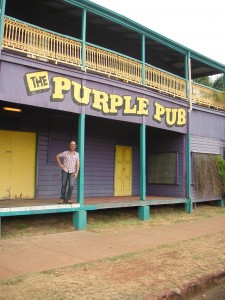 This was a super quick visit to the famous Purple Pub with Nicky Jurd and my good self.  Leaving Cairns around midday, we flew to Normanton and grabbed a hire car.  I love these outback towns – the lovely lady from Dougs Car Hire dropped off the car to the airport, handed me the keys with a smile and that was it.  No forms, inspections, safety briefings or anything.  You want a car – here it is, have a nice day.
Now – we had to drive to Karumba (for work people!) so we had to hoof it.  But I couldn't resist stopping at the famous pub that I had heard so much about!
The beer was super-cheap.  I had a schooner and my friend had a dark&stormy… all up this round was less than $5!   I had to go back and check that I was charged correctly, but the lovely lady insisted that it was all covered.
Anyway – it's a pub.  It's painted purple.  Annnnnd that's about it.  Nothing really to write home about – it has a quaint dining room, outdoor beer garden out the back and a veranda that you can have a beer on.  In true outback QLD style, the railings are shot, the floor is wonky, the tables are wobbly… and I still think it's an aussie icon worth a beer.  Or two.
Pics:
How to get there: