Head to Head Shoot Out!
Which Would you Choose? – Read On!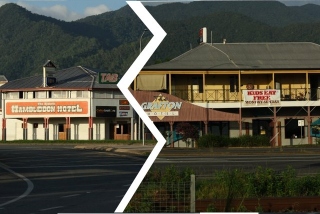 These two pubs are perched on either side of the Bruce Highway / Mill Road Intersection. A busy intersection it is too, and in times past, not only were they separated by the Mill Rd, but also by a Railway Branch Line, and Cane Railway, that once ran down the side of the Grafton. So getting from one pub to the other, especially after imbibing the offerings of any of the establishments, was always going to be a hazardous exercise. Shrugging aside the risks, Andrew and I were determined to do this head to head review for our reader.
Below is opinion and not stated fact. While it's risky to make assumptions (which get more outrageous the longer the review goes for) it's probably worthwhile chucking a couple of words around and see if any misguided ones get corrected in the comments.
Our review started at the Grafton. It was a stiflingly hot and oppressive day, which is actually ideal weather for being inside a nice air conditioned bar with a cold beer. We entered from the rear of the building from where our car was parked, with the most obvious point of entry actually leading us into the air conditioned lounge area, which was nice and cool and quite empty, save for one drunk who suggested we were gay. (Andrew looks sus, but he is married! 😉 ) The nice bar lady suggested we nick around to the bar where the rest of the crowd were, also noting that there would be a 'girl' selling raffle tickets shortly. Hullloooo!
So around we went, and into the very un-airconditioned and … well austere really … front bar of the Grafton. Counting Andrew and myself, there were ten punters in there, reduced to nine when one of girls at the bar slipped away to get into something 'more comfortable' to sell the raffle tickets.
I was ready to dislike the place, and pan it in this review, but the warm friendly glow of beer eventually brought me down off my high horse, and I got a feel for what the place is about. In the bar shots in the gallery, there is nothing exciting about the bar – I even grabbed a picture of the ceiling with its missing sections, exposed wires and bulbless light fittings (this was early in the piece). But it soon became apparent that everybody in that bar knew each other, and this was truly a regulars watering hole. There is no pretence, it is a place where the regulars meet up with their mates, and enjoy the beer and company. Nice little touches like bringing out a tray of party pies and sausage roll bar snacks towards the end of our stay there only went further to enhance the experience.
So there we had it, an austere, slightly rough locals boozer (and no, I will not get into demographics and socio-economics of Edmonton – but perhaps the picture of the large  Woodstock can on the neighbouring Hambleton Pub Bottle Shop can speak more than words), completed by the rich irony of "Antiques Roadshow" showing on the prehistoric rear-projection TV that was bolted to the wall. Personnally, I don't think anyone has  touched this since its installation.
The pub has a modern dining room, a separate gambling area, and a large outdoor dining area, plus pinnies and a play area for the kids. So they cater well for their community.  A few years ago, the exterior was upgraded, and probably the dining room and gambling area as well. But they left the bar well alone, and possibly saved a bit of history by doing it.
Nine punters and pub meat tray raffles are not mathematically sustainable, however, the charming ticket seller persevered  and got through quite a few raffles considering the low numbers. And yes, we came away with a couple of chooks.
From here it was off to stage two of the review, and we dashed across the road and into the Hambledon.
Whoa! Contrast!
The Hambledon is run by a successful local business family who operate other large local enterprises, and do it well. It would seem that they know what their customers want, and invest the dollars as required. Not only was the Hambledon packed, it was going off. The local Kiwi population had chosen this venue for their Waitangi Day celebrations, which clearly helped the patronage numbers. A large crowd had gathered to witness songs being murdered on a Karaoke stage just off the main bar.
The bar, in contrast to the Grafton, is air conditioned, modern in it's decor yet remaining tasteful, and well organised – down to the weekly 'events' board being healthily populated with the forthcoming typical bar attractions – pool comps, happy hours, karaoke nights etc. There were better than five staff being kept busy in the bar alone, and there was a good atmosphere about the place – unusual when you think that there was better than 50% drunken Kiwis in there at the time. The main bar has a TAB and Keno gaming off to  one side, which doesn't really do it for me, but at least the pokies are not in your face in the main bar – they have their own area.
The Hambo also features a very large  family friendly bistro. It is a significant business, and you get the feeling that it does okay financially. In this place there were bar snacks to – but you had to buy them from kitchen. It was doing a roaring trade on its own.
Verdict. Where would I drink?
If I were going in Cold, ie: arriving in Edmonton and deciding on which pub I'd go to, it would most likely be the Hambo. But, on this day, after we'd finished at the Hambo and headed back to the Grafton to pick up the meat tray, I would have really liked to settle in there for a bit longer. It was like family.