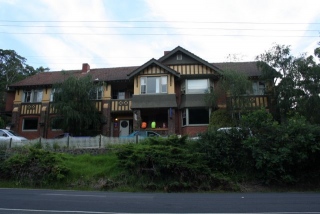 On a recent trip to Victoria, this was the last non urban pubs visited. We had intended to stop and drink at, and review far more than we did, but for some reason, many of the pubs were not open. Visiting Hotels early in the week in some of the smaller and quieter locations around the state had possibility of discovering later than usual opening hours, in some cases not until 4.30 pm. Because I can't review them here, the photographs on their impressive external edifices have been posted into the
Facebook Classic Pub Group
.   So having got that off my chest, let's look at the Alpine retreat.
Warburton is in the Upper Yarra Valley, a bit over an hour to the East of Melbourne. Nestled in a valley like it is, I'm not sure why it's name has reference to Alpine, as the nearby Yarra and Dandenong Ranges are hardly Alpine areas. I was unable to find this out from the staff as well.
The Alpine retreat is a most attractive pub, with a great view of the Yarra River across the road from the pub. The Yarra up here should not be confused with the muddy stream that flows through Melbourne city. Here it is a crystal clear river with attractive parklands either side.
The pub offers a heaps of different dining areas, over 30 rooms of reasonably priced accommodation, and bars that serve plenty of ice cold beer. As I had ridden my bike to Warburton up the prevailing ascent from nearby Millbrook, the beer went down especially well.