Posts Tagged Victoria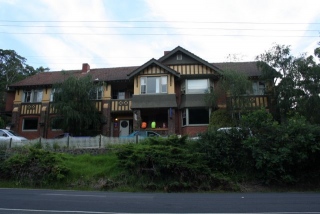 On a recent trip to Victoria, this was the last non urban pubs visited. We had intended to stop and drink at, and review far more than we did, but for some reason, many of the pubs were not open. Visiting Hotels early in the week in some of the smaller and quieter locations around the state had possibility of discovering later than usual opening hours, in some cases not until 4.30 pm. Because I can't review them here, the photographs on their impressive external edifices have been posted into the
Facebook Classic Pub Group
.   So having got that off my chest, let's look at the Alpine retreat.
AKA The Buffalo Brewery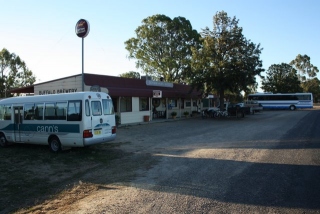 One amazing feature about Boorhaman, is there is really nothing there, except for some farm houses and a pub. I am not familiar with the area, so stand to be corrected, but it appears as if the Pub is located somewhere between where the maps describe as the actual location of Booraham, and Peechelba East. What I am getting at is there is no town or similar surrounding infrastructure, just this pub on a single lane road in the back blocks of Victoria's North East. This is not a bad thing, for a hotel anywhere is like an oasis in the desert of life, and more so this place, as we reached it by bicycle.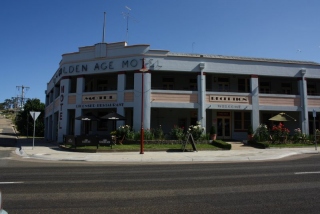 On a recent tour to Victoria, I was informed that we would be passing through the town of Omeo in Victoria's Gippsland, and might have a chance to visit the classical Art Deco Golden Age Hotel  in that town.
Admittedly, this pub is barely legal to be in these pages, as you will note all the external signage suggests that it is a Motel. However, the business actually trades as a private hotel, and importantly, the bar functions as you would expect from any pub. From what I understand, it was closed for a while, and fairly recently, re-opened as an 'accommodation hotel'. Happily the license appears to be restored and delightfully crisp cold Carlton Draught is served to thirsty Travelers. Anyway, when you flick through the Gallery, you will note that I have included a close up of the etching on one of the windows, which clearly has 'hotel' printed thereon. My reviewing companions on this  trip were Andrew Soper from Cairns, and Rebecca Edwards, from Melbourne.