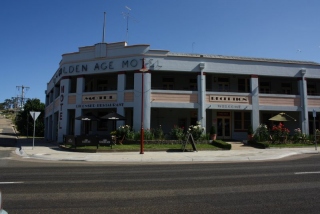 On a recent tour to Victoria, I was informed that we would be passing through the town of Omeo in Victoria's Gippsland, and might have a chance to visit the classical Art Deco Golden Age Hotel  in that town.
Admittedly, this pub is barely legal to be in these pages, as you will note all the external signage suggests that it is a Motel. However, the business actually trades as a private hotel, and importantly, the bar functions as you would expect from any pub. From what I understand, it was closed for a while, and fairly recently, re-opened as an 'accommodation hotel'. Happily the license appears to be restored and delightfully crisp cold Carlton Draught is served to thirsty Travelers. Anyway, when you flick through the Gallery, you will note that I have included a close up of the etching on one of the windows, which clearly has 'hotel' printed thereon. My reviewing companions on this  trip were Andrew Soper from Cairns, and Rebecca Edwards, from Melbourne.
The original building that occupied this site was a true three story classic pub, built in the 1850's, once heralded as the most extravagant pub in Eastern Victoria. Unfortunately, it burned down the Victorian 1939 Black Friday fires.  However the replacement is not bad, being as it had adopted a theme. I particularly enjoyed the reception area, and its wooden booth, with surrounding stair case that leads to some 3.5 star accommodation upstairs. Omeo is a pretty town, our barmaid host most friendly and informative, and it all made for a happy experience. Noting the previously dominant Queensland theme to the blog so far, it should be noted that our barmaid was from Cloncurry.
Only problem was, it was so good there, we spent more time drinking and appreciating the place than we should have, which interfered with our travel plans. But I guess you can't blame a pub for that!