Posts Tagged Golden Age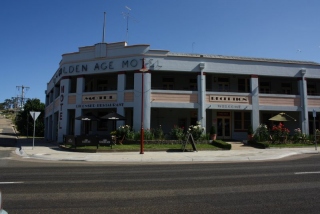 On a recent tour to Victoria, I was informed that we would be passing through the town of Omeo in Victoria's Gippsland, and might have a chance to visit the classical Art Deco Golden Age Hotel  in that town.
Admittedly, this pub is barely legal to be in these pages, as you will note all the external signage suggests that it is a Motel. However, the business actually trades as a private hotel, and importantly, the bar functions as you would expect from any pub. From what I understand, it was closed for a while, and fairly recently, re-opened as an 'accommodation hotel'. Happily the license appears to be restored and delightfully crisp cold Carlton Draught is served to thirsty Travelers. Anyway, when you flick through the Gallery, you will note that I have included a close up of the etching on one of the windows, which clearly has 'hotel' printed thereon. My reviewing companions on this  trip were Andrew Soper from Cairns, and Rebecca Edwards, from Melbourne.